Registration
In order to register with our parish, heads of households must attend an orientation meeting with our Pastor. Please contact our parish office at 281-452-9865 (standrew7067@comcast.net ) for the date and time of the next meeting.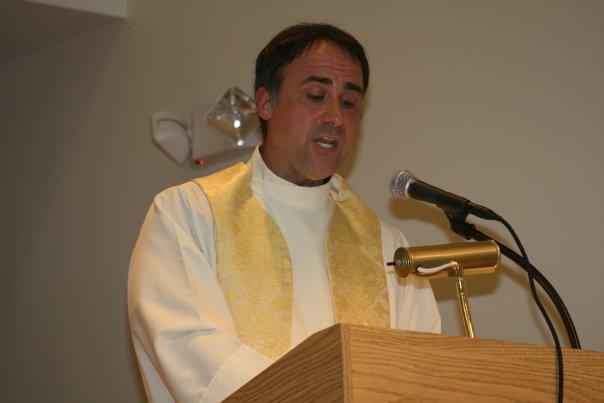 Dear Brothers and Sisters in Christ,
Here at St. Andrew Parish, we invite all of our parishioners to become involved in our faith community and give of their time, talent and treasure for the good of others.
We are one family of faith. We welcome new members into our family, and we are eager to serve you and assist with your needs. We also expect every registered family to take an active role in supporting the parish family through the sharing of each one's time, talents, and treasures. As one family, we all work to support each and every member as we build up the Kingdom of God.
We ask you to make careful and prayerful decisions about offering your time, talent and treasure in your parish throughout the year.
Every Catholic has an important role to play in the Body of Christ. How is God calling you to become more engaged in our Stewardship Parish?
Rev. Christopher Shackelford
Stewardship of Our Resources Means To
Give Personally:
First, we must give more than our Time, Talent and Treasure… we must give ourselves to the Lord. All that we have and are is God's gift to us. A good steward makes God the first priority in everything – family, finances, friendships, and use of time – everything. Stewardship is about making first things first. Christ loved us and poured out his life for us and calls us to that same kind of love. A good steward shares out of love – love for God, for the Church, and for our parish.
"First they gave themselves to the Lord; and then by God's will they gave themselves to us as well." 2 Cor 8:5
"It is more blessed to give than to receive" Acts 20:35
Give Thoughtfully:
Giving requires planning and thought. This decision should be integrated with our other financial and time commitment decisions. We give thoughtfully when we plan our giving and use our Sunday collection envelopes.
"Where your treasure lies, there your heart will be also" Luke 12:34
Give Proportionally:
Give a gift of equal sacrifice… not equal value. Our gift should be generous and in proportion to the Time, Talent and Treasure God has given us. Some use the biblical concept of a tithe, a ten (10 %), as a guide. Strive to give 4% to weekly offertory, 4 % to parish Building Fund/Debt Reduction and 2 % to the archdiocese and other charities. Commit to a specific gift each week or month.
"One tenth of all the produce of the land, whether grain or fruit, belongs to the Lord" Lev 27:30
Give Cheerfully:
Give cheerfully from the heart. Our decision to give our Time, Talent and Treasure is a personal commitment from our heart between us and God.
"Everyone must give according to what they have inwardly decided… for God loves a cheerful giver." 2 Cor 9:7
Give Thankfully:
Give thanks for the many blessings God has given us, a grateful response to the infinite love God has bestowed upon us. A good steward is grateful. When we are filled with a deep sense of gratitude we are most willing to share our gifts to build the Church. The good steward recognizes that everything is a "gift" and has a desire to pass along these gifts to others.
"Give and it will be given to you" Luke 6:38
Hallmarks Of A Good Steward
How Can We Respond?
Good Stewards of Time…
First: Read and reflect upon the scripture references.
¨ Make Mass your top priority on Sunday.
¨ Schedule time for daily prayer.
¨ Pray together with family and loved ones.
Good Stewards of Talent…
Second: Hold a family meeting and discuss how each member can give their abilities and money to support our church.
¨ Pray about which new ministry to join
¨ Re-commit yourself to your current parish
¨ Train your children to serve in the Church
Third: Volunteer your Time and Talent to at least one ministry. All of these elements are equally important.
¨ Without financial resources, we would have no church to worship in...
¨ Without prayer, our church would be spiritually empty...
¨ Without personal involvement in ministry, we could not bring the Good News to others.
Stewardship-Tithing & Almsgiving
"The measure with which you measure will be measured out to you and still more will be given to you." (Mk 4:24-25)
What is tithing and almsgiving?
¨ žGiving back to the Lord in gratitude a portion of every thing God has given
¨ Tithing and almsgiving is a sacrifice
¨ Showing your commitment to regular support of the Community and actively participating in the Mass
¨ Biblically, tithing is your sacrificial gift of 10%
Take a Leap of Faith!
Take a Leap of Faith and give your 10% or give 4% to weekly offertory, 4 % to Parish Building Fund/Debt Reduction and 2 % to the Archdiocese and other charities. Commit to a specific gift each week or month.
Give Generously: God's Blessings to us are bountiful and unconditional. The return of our time, talent and money should express our trust in a God who will provide for us.
"Remember that the person who plants few seeds will have a small crop; the one who plants many seeds will reap a large crop." 2 Cor 9:6
Stewardship Commitment
As God's children, we should have an even greater willingness to commit some of our financial resources for the work of the Lord that He is doing through our church. Here are some thoughts as to why a stewardship commitment is beneficial:
When we commit, we give careful thought to our giving. We commit to a predetermined amount of weekly giving rather than making weekly giving decisions in haste.

Commitment tends to safeguard our decision not to let our love of money overcome our love for the Lord. Our commitment helps us overcome the temptation of giving less when our financial situations get a little tough.

Commitment is an affirmation that we will do it God's way. It says that we are taking a definite stand on the side of God. To make such an affirmation in word and deed is part of living the new life we have in Christ.
"But just as you excel in everything … in faith, in speech, in knowledge, in complete earnestness and in your love for us … see that you also excel in this grace of giving." 2 Corinthians 8:7
This chart may be used as a reference. Column 1 is the Annual Gross Income (before taxes) . Column 2 reflects the

10% of Annual Gross Income

(before taxes)

and

Column 3 reflects the

Pay Weekly (52) times per year

and Column 4 reflects the

Pay Monthly (12) times per year.
For example, an individual with an Annual Gross Income before taxes of $5000, annual 10% would be $500. Their weekly tithe for 52 weeks would be $9.62 per week. A sacrifice could be made by giving up a movie for the week or 3 cups of Starbuck's coffee for the week. Their monthly tithe for 12 months would be $41.67 per month. A sacrifice could be made by giving up 1 carton of cigarettes per month or a visit to the nail spa for the month.
Annual Gross Income (before taxes)
10% of Annual Gross Income (before taxes)
Pay Weekly (52) times per year
Pay Monthly (12) times per year